Cosplay Costumes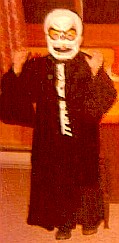 The Author As A
Skeleton
(Maybe Age 6)
Cosplay is short for costume play which is short for fancy Halloween costume. OK, that's not completely accurate, but you know that, deep down, this all probably started as an excuse to buy really fancy Halloween costumes. It doesn't make sense to spend a lot of money on something you'll only wear for a few hours one time, right? So someone probably had the genius idea of creating conventions where people could say to themselves, "Well, $1000 is too much to spend on a costume for Halloween, but if I wear it to a couple of Cosplay events, it will still be too much, but I won't feel as bad."
Personally, I'm all for this. I was doing cosplay before most people had ever heard of it. (Wikipedia says the term was coined in 1984, so I can't claim to have been cosplaying before it was invented. Although I did go to something in a fairly elaborate Indiana Jones outfit around 1986. Even bought a real bullwhip for that.)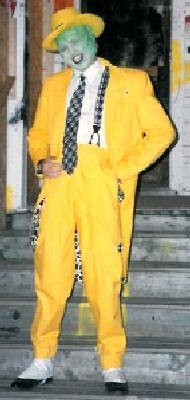 The Author As The Mask
My first cosplay costume, based on the amount of money I spent on it, was the Mask. (The movie with Jim Carrey in it, not the one with Cher.) I won't say it was the best character likeness - my face is square where Carrey's is angular - but I spent a lot of time, money and effort on it, even getting prosthetic teeth and a custom tuxedo made. Not wanting to waste this costume, I modified it a bit and went as the Joker the next year.
After that, I lost interest in expensive costuming for a long time, preferring to spend my excess money on creating haunted house props and then on my pirate surgeon reenactment impression.
In early 2013, Jana, a pirate reenactment friend, asked me to go to Dragoncon in Atlanta. I had never thought this would interest me, but she had helped me out a lot with my pirate surgeon web page for years, so I thought I would return the favor and join her group at this event. (She seemed to think I would add something to the mix.)

The Author As
Captain Antilles
I wanted to be a protocol droid (like C3PO, only not C3PO) but I couldn't fit into the costume. (I couldn't have fit into the costume when I was in high school. It is tiny.) So I decided to go as Captain Antilles, the first owner of C3PO that we knew about from the real Star Wars movies. (No, the prequels are not real Star Wars movies. They are more like George Lucas fan fic stories.) While it wasn't a flashy costume that got lots of attention, it did get appreciation from people who were into Star Wars, so I knew I had done a good job.
When it comes to cosplay, wikipedia's entry on cosplay explains that there are three reasons for cosplaying (gathered 9/5/14). My reason is (mostly) the third.

"The third is those who enjoy the creative process, and the sense of personal achievement upon completion. Such people are more likely to have a greater budget dedicated to the project, more complicated and better quality outfits with access to more materials. They are noted by participation in cosplay competitions and are also more likely to engage with professional photographers and cosplay photographers to take high quality images of the cosplayer in their garment posing as the character."
I don't get into competitions because I have little interest in that. I probably would have myself professionally photographed, except I don't want to spend the time or money required to do that. Instead I get regular photographs and post them here. But I agree with the first part of it.
Below are the characters I've put together with a description of how I made any of the parts that might be of interest. (Or might not be. It's the part that interests me, so you must either read about it or skip over it.)
Mark's Cosplay Costumes
---